PROJECT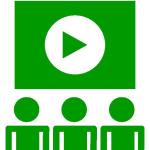 Curricular Areas: Visual arts and ICT.

Learning Opportunities & Skills: Video editing, image editing, audio editing and online sharing.

About this Unit: The objective of this unit is for students to investigate and describe their locality from the perspective of street or graffiti artists. They will work towards the creation of a short video that conveys the mood of the locality as interpreted by the often striking and unique medium of urban art.

ACTIVITIES
Station 1: The History of Graffiti
Students conduct research into the history of graffiti. They present their findings using a choice of on line tools e.g. Prezi, Instagram, Pinterest or Glogster.

Station 2: On Location
Students take to the streets to photograph examples of urban artists' work which they then upload, organize and store in an on line album e.g. Flickr.

Station 3: Images and Imagination
Students experiment with image editing software (Pixlr) in order to edit and adapt their photographs.

Station 4: Audacious Audio
Students use audio editing software (Audacity) to create a soundtrack for a Prezi presentation.

Station 5: Video Vibes
Students are asked to create a short video clip that expresses the 'mood' of the urban area using video editing software (Windows Movie Maker).
Station 6: Going Live!
In order to get feedback on their work, students upload their videos to an on line video sharing platform e.g. Vimeo, YouTube.

This post is also available in: Dutch