PROJECT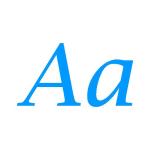 Curricular Areas: Visual arts and language. It can be used to highlight issues relating to PHSE or geography too.
Learning Opportunities & Skills:
Image editing, colour compositions, font editing, vector draw.

About this Unit:
Complex language is arguably mankind's greatest invention. It affects almost every aspect of our lives and can influence anything from what we buy at the supermarket to whether countries go to war or not. This unit aims to get students to experiment with language by using words and letters to create powerful images and to convey influential messages.

ACTIVITIES
Station 1: Typography Makeover
Students learn to use illustration software e.g. Adobe Illustrator, to investigate the use of typography on public notices.
Station 2: Animal Alphabet
Using illustration software (Adobe Illustrator, Inkspace) students learn how to create digital images and pictures using words.

Station 3: Word Power
Using everything they've learnt, students use graphical illustration software to create thought-provoking campaign posters.
Station 4: Design Your Own Font
In the final activity, students learn how fonts are deigned by using Fontstruct to create their own.
This post is also available in: Dutch