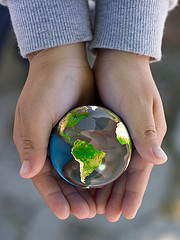 Get children to create a virtual autobiography. They make placemarks at any location of significance then edit the placemarks to add stories, photos, videos, or URLs
This can be where they were born (maybe they can take a digital photo of their birth certificate) the house(s) they have lived in,  playgroups or schools they attended, where their relatives live, places they have visited, where they went on holiday. All these place markers can have pictures or video added.
So that it does not become a competition between children about who went on the most exotic holiday , emphasise that the places they choose should have some 'special significance', for example where they most enjoy taking their dog for a walk or where they had their first game of football.
Or else, do the same for a famous person, historical character, folk hero etc
By the way, someone else designed this – maybe Tom Barrett – but I really cannot remember! But I have used it and it works well. If you recognise it as your work, please let me know!
This post is also available in: Romanian