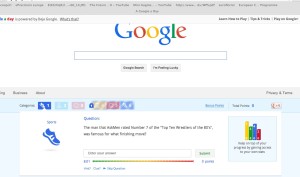 There is a great website called, helpfully, agoogleaday.com  You will be asked for your Google+ log in but even if you don't have one, you can still play the basic game.  Each day there is a new question and you are timed to see how fast you can get the right answer using Google. If you get it right, you score points with additional bonus points for finding the correct answer in less time.  If you get stuck, there are two buttons that give you 'hint' (a gentle nudge!) and 'clue' (makes it much easier).
It might be worth checking out the question of the day first and doing it yourself but I haven't yet seen a question I would not want children to answer – even if some of them are a bit obscure. In fact, the more obscure, the better kids seem to like it. They can also skip a question if they are really not interested and the question categories are shown on the left (e.g sport, science, pop culture etc)
Irrespective of the useless information they might acquire, we love it because it teaches kids to search quickly and efficiently, to choose the most productive terms to enter into the search engine, to skim through a website to see whether it is likely to generate a correct answer or whether it is better to move on to the next.
(By the way, just click on the picture above if you want to enlarge it)