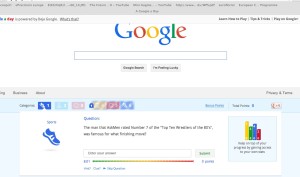 agoogleaday.com is een fantastische website. Je wordt gevraagd om via Google+ in te loggen maar zelfs als je geen Google account hebt kan je toch nog het basis spel spelen. Iedere dag is er een nieuwe vraag en de uitdaging is om die zo snel mogelijk te beantwoorden door Google te gebruiken. Wie de vraag juist beantwoordt krijgt punten en bonus punten op basis van de snelheid. Als het echt niet lukt kan je een tip (hint) vragen of een aanwijzing (clue).
Voor je dit in de klas gebruikt kijk je best eerst wat de vraag van de dag is om te zien of het geschikt is voor je leeftijdsgroep. Sommige vragen zijn nogal vergezocht maar kinderen vinden dat juist leuk. Ze kunnen trouwens ook een vraag overslaan als ze er echt geen belangstelling voor hebben. De categorie waar de vraag onder valt staat in de linker kolom (bvb. sport, wetenschap, muziek, enz.).
Het gaat hier niet zozeer om kennisverwerving maar vooral om snel en efficiënt leren zoeken. Leren om de juiste zoektermen in te voeren in een zoekmachine en om snel diagonaal door een website te gaan om te zien of er relevante informatie instaat of als dat niet het geval is naar de volgende te gaan..
(Klik op de afbeelding hierboven om te vergroten)