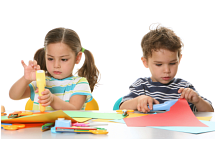 Age: 7-10yrs
Ease *****
Overview
In this activity students will build their own musical instruments from waste materials and transmit their knowledge and understanding through sharing video tutorials and their own blog on the Internet.
Description
In this activity learners are encouraged to work both artistically and technologically by firstly creating musical instruments using waste material and then investigating sound using a audio recording software.
Learners should be divided into groups of 2-4 individuals before devising and building an unturned instrument (by unturned, we mean an instrument that makes a noise but is not 'tuned' e.g. shakers drums. Building a harp may be a little too ambitious!)
Throughout the process, ask learners to think about the sound their instrument makes and if it is possible to create different sounds through shaking, hitting, scratching etc the instrument.
When they've finished making their instrument, ask them to record themselves playing their instrument using www.audacity.sourceforge.net/(or similar free software). When each group has recorded themselves playing their instrument, play each recording anonymously, asking the class to study the audio trace (blue spiky pattern) and guess which instrument created that trace. Discuss their ideas and ask them to think of a rule e.g. the louder the noise, the stronger the audio trace.
What do I need?
Handicraft and waste materials necessary to build the instrument
Added value
This enables learners to understand how sound is recorded and represented and how they can interpret an audio trace..
Hints and tips
This unit of work could take a while because it contains different 'components' or 'stages' to it. Having said that, it isn't difficult and can help introduce/consolidate skills such as using audio recording software.
Safety
There are no internet safety worries connected to this activity, but the usual care should be taken whilst using scissors etc in the craft activity.
Other opportunities to use the same software
This post is also available in: Dutch, German, Italian, Spanish, Portuguese (Portugal), Romanian, Welsh