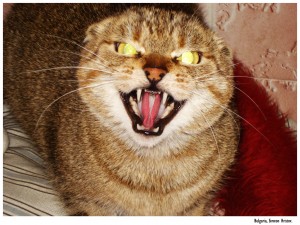 Age: 5+yrs
Ease ****
Overview
This activity is fun and can be used as a little assignment at different times throughout the year. It helps pupils to feel more part of the class and develops their awareness of others' feelings. If you're familiar with the activity "The Little Note" this works like a modern equivalent.
Description
Start off by showing the children how to use www.blabberize.com  to make a Blabber. Explain to them that 'a blabber' is a talking 2D picture or photograph. You may have already shown them a blabber you made earlier.
If your computer has an inbuilt microphone this is usually sufficient. If you're using an external microphone, show learners how to use it before you start.
Put children's names on individual pieces of paper and place in a box. Ask each one in turn to select a piece of paper from the box without showing it to anyone. If they select their own name, ask them to replace the paper and choose another. By the end, everyone will have his or her  "Secret Friend". Over a period of time, you give each learner the opportunity to send his or her "special message" to the secret friend. This moment can be: a birthday, New Year, the day that the secret friend has a very good report card, very good sports results, a new haircut… almost anything can be a reason to send a Blabber! It's up to the secret friend when they'd like to do this. The only caveat is that it MUST be a positive moment. The message can be a short message, a song, a poem or just a very nice compliment! Once the message has been created, the learner can either chooses a picture from the bank of images provided or upload a photo or picture from the class computer. The link for the Blabber can be send to the "secret friend" at the chosen moment.
What do I need?
Added value
every learner gets a confidence-boosting  surprise!
It appeals to children's zany sense of humour!
learning to say something nice, be kind and considerate  to someone in a fun and entertaining way
Hints and tips
Do this at the beginning of the year or agree on a defined period for the activity. It can be hard for children to wait months for their message.
Decide beforehand on the length of the message.
Safety
If you want photos of famous people or you're unsure as to weather you can use an image, stick to using images from http://search.creativecommons.org/ only. It is safe for learners to use photos of themselves but ask them not to make reference to their names, addresses etc.
Other opportunities to use the same software:
Use it to create fictional characters and prepare monologues for them.
"Talking Heads" style presentations: biographies of famous/historical/people in their community.
Create Class news bulletins.
"How to…" tutorials.
This post is also available in: Dutch, German, Italian, Spanish, Portuguese (Portugal), Romanian, Welsh