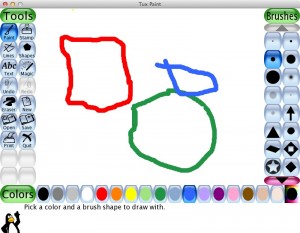 4-6yrs
Ease *****
Overview
Early on, Learners develop a positive attitude towards ICT and begin to use ICT as a learning aid. Learners will learn to use ICT in a safe, responsible and functional way. Picture dictation can be used with learners of very different ages. It's a good activity for the memory, concentration, learning mathematical concepts, colours,… and it's fun!
Description:
There are different ways of doing this, depending on the age group/ability level. A nice program to use is Tux Paint (colours, shapes, stamps, background).
Give learners a simple drawing that they have to copy using Tux Paint
Dictate  images: big tree, yellow triangle, three apples in a basket, four flowers arranged from smallest to biggest, … left from…, … behind…,… This way the children can learn and practise vocabulary and meaning, learn to stay focused and if you dictate a few things at a time, it can help train their memory.
Make pairs, put them back to back, one child gets an image and has to explain this image so his colleague can make this drawing (exactly the same) in Tux Paint, this is also a good exercise for communication skills, with older children you can put in lots of mathematical concepts, shapes, properties of shapes etc.
What do I need?
Tux Paint (tuxpaint.org)
Added value:
learning the basics of language and developing early IT skills e.g. controlling a mouse.
easily differentiated according to age/ability
develops listening skills
Hints and tips
This is usually done with one pupil at a time. But you could do it on the interactive whiteboard and ask individuals to come in turn to add to the composition. Alternatively, it could work in pairs, with one instructing the other.
Safety
Even if you publish learners' work to the web or the school's website, there are no serious safety implications. If you wish, use only first names on learners' published work.
Other opportunities to use the same software
Dictate simple instructions in a foreign language e.g. Faites un dessin d'une fleur rouge
Create an aerial plan of the classroom/their bedroom.
This post is also available in: Dutch, German, Italian, Spanish, Portuguese (Portugal), Romanian, Welsh