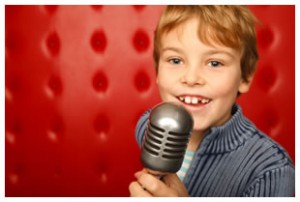 Age: 7+yrs
Ease **
Overview
Creating a podcast is much easier than you might think but it has many different applications. Here we've used it to develop literacy skills whilst also creating an opportunity to improve home-school links. The end product also has a practical application making it an useful and sustainable activity.
Description
If you do not already have an audio program on your computer, you will need to download it from the web (use the link below). Downloading audacity is free, easy and it's ready to use within minutes.
When you're all set and ready to go, ask learners to open the program. The control panel may look complicated but you'll basically only be using three buttons: the record (button with red circle in the middle) the stop (button with the square in the middle) and play (button with the green triangle in the middle. These are easily recognisable as they are the same as you'll find on any traditional audio equipment you have at home e.g. VCRs, DVD players etc.
Learners will have prepared a script outlining the week's news, informing parents of what they've been up to in school, what their homework is for the weekend and details and dates of any upcoming events. You may also include reminders about school rules (no jewellery or the need to bring a full PE kit) which parents often appreciate!
Because you may not want to be fiddling with the pause button, or worse still, having to edit the final recording to eliminate mistakes, you will want pupils to practise reading their script before recording. If they're quite nervous, maybe have a couple of trial runs with whilst recording too. When you're ready to record your final take, press the record button and silently cue the children to begin. You will have told them not to stall or stop if they make a mistake, but to correct themselves calmly and efficiently 'like they do on the TV'! It may not be perfect but it will be very endearing!
When they have finished recording, press stop. You are now ready to create you podcast. Firstly, if you wish to create a podcast for the internet, you need to export the recording as an MP3. To burn to an audio CD export as WAV. Click on file, and in the drop-down menu, click on Export… or Export as…, whichever appears on your menu. Save to your Desktop (easier to find) and remember to choose the appropriate file type (MP3/WAV) in the 'Save as Type' box. Click 'Save'. A box entitled 'Save Metadata' will appear, just type your info in the appropriate fields e.g. Names of pupils, date of recording etc.
If you don't have a decoder on your computer, you will not be able to save as an MP3. However, downloading a free decoder is, again, easy. If, when you save, a pop-up informs you that you don't have a decoder, click on the download button and you be automatically taken to the appropriate website. Alternatively, paste the following URL in your browser and download it:
http://lame1.buanzo.com.ar/#lamewindl
When you've done this, your audio recording should save as an MP3.
The final stage is to share the recordings with parents. The easiest way to do this is just to e-mail it. Or put it on a memory stick if children have access to one.
What do I need?
audacity or any similar audio recording software. You may already have this as part of a bundle when you bought your PC. This is usually true for Mac users.
http://audacity.sourceforge.net/download/
http://lame1.buanzo.com.ar/#lamewindl
Added value
The added value here lies in the fact learners investigate further the possibilities regarding online communication. Encourage them to discuss why this form of communication is better than a traditional letter home e.g. Letters get lost or used as coasters under coffee mugs, email doesn't!
Hints and tips
Initially (especially with younger learners) you'll have to direct the creating of the MP3. But learners will be able to complete the process with increasing independence in a very short space of time.
Safety
A list of dos and don'ts would be useful before beginning. Dos would include all the positive teaching points like speaking clearly; the don'ts would include not referring to addresses, telephone numbers and email addresses on the podcast.
Other opportunities to use the same software:
Check out the unit Reading Recitals for ideas on how to keep parents up-to-date on learners' development in reading.
Begin creating pre-recorded radio broadcasts: learners write a script, choose songs they'd like to play and arrange interviews e.g. with the head teacher.
Check out the unit e-Storybook for ideas on using audacity in story writing.
This post is also available in: Dutch, Italian, Spanish, Romanian, Welsh