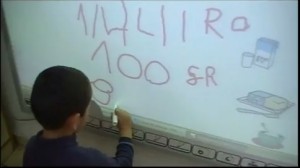 Age: 4-6yrs
Ease ****
Overview
One of the things that characterizes the place where we live are local recipes and dishes. In this activity, students develop their own traditional recipes based on family tradition and home cooking. Their recipes are uploaded onto a classroom blog.
Description:
The first step in this activity is to research some local, regional or national dishes – even better if you can arrange a tasting session! Discuss the ingredients and which ones make the dish sweet, savoury, tangy, bland etc. Explain to the class that they're going to choose one dish/recipe and re-invent it/make it their own by changing ONE ingredient. So for example, most countries have their own versions of broths, stews or soups, learners would need to add/change one ingredient, perhaps including a vegetable from another country e.g. pumpkin.
The class will need to create a recipe sheet by searching the internet for pictures of the ingredients of their dish. Here's one class in action:
 http://www.youtube.com/watch?v=hZJQhZXC-zY&list=UUtFkoZr-mhvrgujIxsK4mSA&index=9&feature=plcp
If for example they need "milk" in the recipe, children can write the word in the search engine and all of them should chose among all the pictures to be downloaded. They then have to note what quantity of each ingredient is required (it may be necessary for you to give them this information).
When you have all the pictures, use an interactive whiteboard to write each steps of the recipe and to add the pictures they have downloaded previously.
www.youtube.com/watch?v=b7cVrKfcYtM&feature=player_embedded
Once the recipe is completed upload it to the blog with a message addressed to learners' parents inviting them to cook the recipe at home with their children. Encourage them to take pictures of children while they are cooking. Ask parents to email the photos to school.
Use the interactive whiteboard to open email and allow children to upload their photos as cooks to the classroom blog.
What do I need?
A interactive whiteboard.
e-mail.
Blogger, WordPress, Flickr, Picassa.
For more open access software please visit the Taccle website.
Added value:
This activity is highly motivating and interesting because the family is included in the learning process and participates in the learner's experience.
Using It to create greater home-school links is also very worthwhile.
Hints and tips
It is advisable to inform families about this activity beforehand. Encourage them enter into the spirit of things and to dress their children as cooks. You may like to highlight the opportunity for them to have fun as a family.
It is unlikely that every child will participate, but do not be disappointed, all learners will have the opportunity to share in the preparation and resulting blog.
Teacher´s Blog:
http://etapainfantil.blogspot.com.es/
Safety
Make sure that the images of children that are going to be published in the public domain have parents' permission.
Other opportunities to use the same software:
This post is also available in: Dutch, German, Italian, Spanish, Portuguese (Portugal), Romanian, Welsh