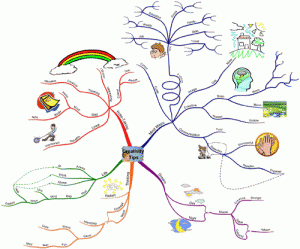 Age: 7+yrs
Ease ***
Overview
This activity gives a chance to reflect on a story Children learn how to structure a story.
Description
This activity is suitable to use with a wide range of ages and abilities as long you adapt your working method – which we teachers always do! With younger children you need to search or scan pictures in advance, with older children you can start by typing in text while mind-mapping so you can complement the mind-map later on with pictures or drawings.
You start by reading an age-appropriate story to (or with) the class. You will have already downloaded imindmap and can now begin using it to map the story on the interactive whiteboard. Starting with the branch 'WHO' you ask the children to tell you everything they remember about the characters. Next you add the branches 'WHERE', 'PROBLEM' and 'SOLUTION' and complete each branch.
It's always fun to have a quiz where the learners use the mindmap to find the answers if they need to e.g. Why did the main character…"
What do I need?
Tablet or camera
Digibord/Interactive Whiteboard
iMindMap
Added value
This activity gives children a perfect tool to reflect on a story and organize the series of events chronologically. It also gives them an easily accessible exemplar plan for any future storytelling/writing activities.
Hints and tips
Mindmapping freeware that you don't need to download to your computer is available but not always very easy to use. Always try it out before using it in your lesson!
Safety
There are no safety issues.
Other opportunities to use the same software:
Mindmap ideas for projects, presentations, reports etc
Map historical events e.g. causes and effects of World war II
This post is also available in: Dutch, Italian, Portuguese (Portugal), Romanian, Welsh