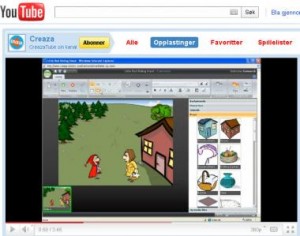 Age: 7+yrs
Ease ****
Overview
Through this activity, learners investigate writing in the comic book genre. They will learn how to use dialog to express their ideas and create fun and original story sequences. This is particularly good for investigating sequencing and plot.
Description
Ask the pupils to bring their favourite comic book to school. Discuss the typical techniques used in comic books e.g. different kinds of speech bubbles, placing of characters in relation to bubbles, sequencing scenes.
Divide the pupils in to small groups and ask them to create a situation in Creaza Cartoons by choosing a background, characters and characters' emotions. This is really easy to do, but if you'd like further instruction, put the tutorial URL (below) into your browser. If appropriate, play the tutorial for the learners too, it's very accessible.
Learners can either create their own cartoon or pass the opening of their story on to another group. Once their stories are finished, they can use Creative Cartoons to turn them in to fantastic comic books! The comic books can be shared through a link and learners can watch and evaluate each other's work.
What do I need?
www.creaza.com (web 2.0 tool, no need to install anything, you only need to create an account)
tutorial on: http://www.creazaeducation.com/cartoonist
Added value
– easy to share with parents
– learning to work in groups, respecting each other's ideas
– exploring the possibilities of a new tool
– learning to work independently with ICT
Hints and tips
It is worth noting that the smaller the groups are, the more input each child will probably have into the cartoon. We recommend no more than 4 to a group, but 2 learners per group is ideal.
Safety
Remind pupils to not use personal information e.g. actual addresses, phone numbers etc in their cartoons!
Other opportunities to use the same software
Develop editing skills by asking pupils to evaluate, edit and publish others' work.
Recant personal stories using the characters provided.
Create new fairytales e.g. Little Red Riding Hood meets The Three Little Pigs.
For older pupils, why not try www.toonddoo.com this software has more features and looks a little more authentic.
This post is also available in: Dutch, German, Italian, Portuguese (Portugal), Romanian, Welsh