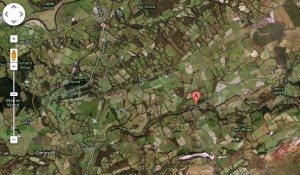 Use Google Earth (or Google Maps if you haven't got to grips with Google Earth!)
Divide the class into groups and give each group a location. (You can use the line or path function on Google earth to do this)
Give the class a series of tasks or questions. The less able group might be given tasks such as
Find at least one farm
Find two natural features (a river, a hill etc)
Find two different sorts of houses
Write down two place names
A more able group could be given harder tasks such as
How many farms can you find?
How many different natural features can you spot?
Can you find examples of a Victorian house, a modern bungalow and a very old building such as a church or castle? (using street view)
Make a list of the place names in the area and find out what they mean.
How far is it to the seaside?
Encourage the groups to use different overlays on Google Earth, to zoom in and zoom out, to use street view etc. If you want to extend the activity they could put place markers on the map to illustrate their answers.
Then compare their results. Would they describe the area they have explored as rural, urban or suburban? What are the main differences between the areas?