I love this one from Tom Barrett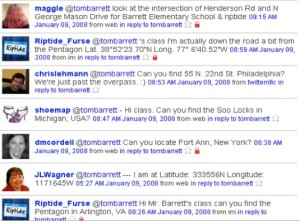 "Use a combination of Twitter and Google Earth as a unique mapping activity or intro to using Google Earth.
Ask your Twitter network for challenges, GeoTweets if you will. Do this in advance of the session to give people time to respond.
Guide the children quietly – you want them to be explorers not tourists!
Encourage the children to found out about the area of the GeoTweet – find proof – we found the name of the local garage for one!
Tweet back the proof to the sender to say you have found them. Maybe ask a further question about the area.