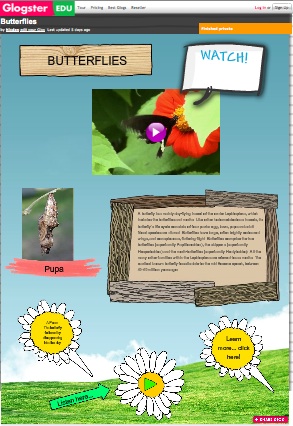 Glogster is a perfect tool for pupils to present or communicate information. You can use it for creating posters, fact files, project boards or 'how to…' instructions. It also serves as a good entry level activity to blogging.  You can put text, images, audio and video files on your Glog and add hyperlinks as well as choosing from hundreds of backgrounds and wall papers.
By the way, the entry level software is free then you pay for a premium service. However, you can do so much with the freebie package you probably won't want to! (The benefits of the other options are outlined in the full lesson plan)
Here are some ways we have used Glogs….
Create a Glog about a character from history.
Create a diary-style Glog, perhaps inspired by a favourite book e.g. Diary of a Wimpy Kid by Jeff Kinney.
Make a time-capsule Glog, where pupils make a historical record of what it is like to be a child in the 21st Century
Create a Glog around a science topic
Use a Glog to display their work in school that week / month / term so that they can share it with their parents
Create a Glog around a play or poem they are studying (could include a vid or audio of some pupils acting or reading the poem)
For younger children, you could help them make Glogs about
particular colours
shapes
fairy stories
different sorts of transport
seasons
opposites – (heavy/light, things that float/sink etc)
If you want to look at one, check out this classroom one that Nic did about butterflies.  He also did a Taccle Glog.
Whole lesson plan  (including detailed instructions on using the software)