Age: 9+yrs   Ease ***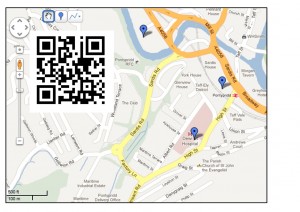 Overview:
Pupils will learn how to generate and read a QR-code with a tablet or smartphone. They will learn how to find a location on a virtual map, how to get GPS-coordinates with Google Maps, share a document with Google maps and post an image on panoramio.com and link this to the correct coordinates.
Description:
Every pupil (or maybe pairs of pupils) thinks of a question about an important building or location in the school's village. Ideally, the answer to the question has to be found outside the building. (e.g how many steps lead up to the front door?  What date was this statue erected? How many sorts of trees can you see?)
Create an account on Google docs. The pupils put each question onto Google docs creating a separate document for each question. This will give the question a unique url. Tell them to "share with anyone who has the link"
Find a free QR code generator – www.qrstuff.com is very good so is www.qurify.com Click on 'website url' on the drop down menu. Download a QR code and save it on the desk top.
Find the building on Google Maps and get the GPS-coordinates, copy them to the clipboard
Log in to Panoramio.com (login provided by the teacher)
Upload the QR-code to Panoramio and add the GPS-coordinates
– your part of the Villagequest is ready!
Each pupil looks for the QR-codes on Google maps and reads the questions with a smartphone, tablet or pc. He/she searches for the correct address on Google Maps and tries to find the answer with Google Streetview (or in the real world if you feel like a trip in to the village). The answers are written on a form/worksheet. The class that made the quest marks the answers and awards the prize!
Get one class to make a Villagequest for another class.
What do I need?
Pc or tablet or smartphone
Access to Google Maps and Google Streetview
A Google docs account
A Panoramio.com account
A Qurify.com account or access to qrstuff.com
You can also use Qrvoice.net to make a "spoken QR" which can be fun
Added value:
– a lot of new tools to explore for the pupils
– they learn to plan and work independently
– useful tools in everyday life
– opportunity to explain GPS coordinates
Safety
There are no internet/It safety issues, but ensure pupils are accompanied when they leave the class to place their treasure hunt clues.
Other opportunities to use the same software:
See unit QR Code Treasure Hunt
Create QR Code badges for themselves. The QR Code reader takes users to  a web biography.
This post is also available in: Romanian