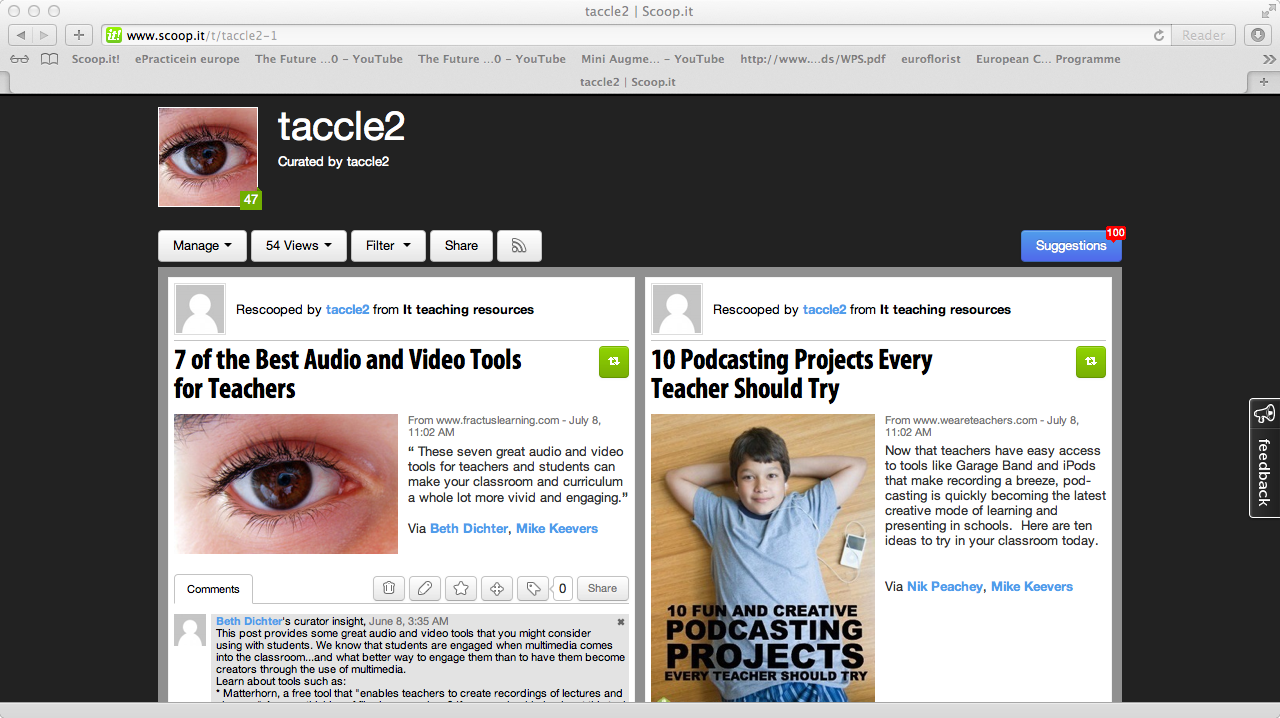 Some of you have obviously noticed that we have added a new 'Scoop.it!' icon to our posts – at least three of you have complained that they have no idea what it's for and asked for an explanation. Fair point!
Basically, Scoop.it! is a service that  lets you gather together in one place all the web pages you think are interesting and turns them into something that looks a bit like a magazine that you can share with other people.  It does that by combining clever curation tools that make it easy to gather content with a reasonably wide range of sharing functionalities to let people know about your page.  There is a freemium service – you pay for increased capacity and capability.
Needless to say, there is a Taccle2 Scoop.it page which is updated several times a week.
(Curation is the must-know word you need to share with your students. It's very literal – think museum curators – it is just the process of collecting, preservation, maintenance and management of digital assets.)
What can teachers do with it?
Matt Tschoegl has suggested some practical ideas that people have already come up with on how to put Scoop.it to good use:
How it works
Scoop.it is based around what they call Topics.  A Topic is the page that they generate for you with a permanent URL and title. Each Topic is made up of Scoops.  The Scoops are essentially the articles that make up the content of your Topic.  There are four different ways to create Scoops.
Scoop from suggested content.  Based on keywords you enter, Scoop.it will recommend content that you might want to add to your Topic.  You can adjust the sources to make sure that it is suggesting the kind of content you would like.
Add a web page with their bookmarklet.  If you see a page that you like, you can use the bookmarklet they provide to tag the page and have it added to your Topic.
Rescoop from other topics.  When you find material/content that you really like in other Topics, you can add that content to your own Topic by rescoop-ing.
Create your own Scoops.  You can create blog-like entries by entering your own title, image, and text.
One you have created your topic, they offer a number of different sharing options: widgets for your website and blog, buttons for your website or blog that link to your Scoop.it profile, an RSS feed for your Topic, or an easy to share Topic URL. If you would also like to use social networking tools to publicize your topic, you can share your scoops by posting to Facebook, Twitter, Linkedin, Tumblr and WordPress accounts.  To know if your Topic is reaching viewers, they also offer some pretty rudimentary tracking of user interactions with your Topic by recording the number of views that it receives daily (for more analytics, you have to pay).
Getting Started
First, create an account with Scoop.it.  They strongly encourage you to use either your Facebook or Twitter account to log in, but if you are not eager to hand over the keys to your social network, there is an option for creating an account with just your name and email address.  They then require you to begin creating your first topic, show you how to install their bookmarklet in your browser bar, and display some popular Topics that you can choose to follow.  After that "guided tour" you can go about really curating your first Topic.