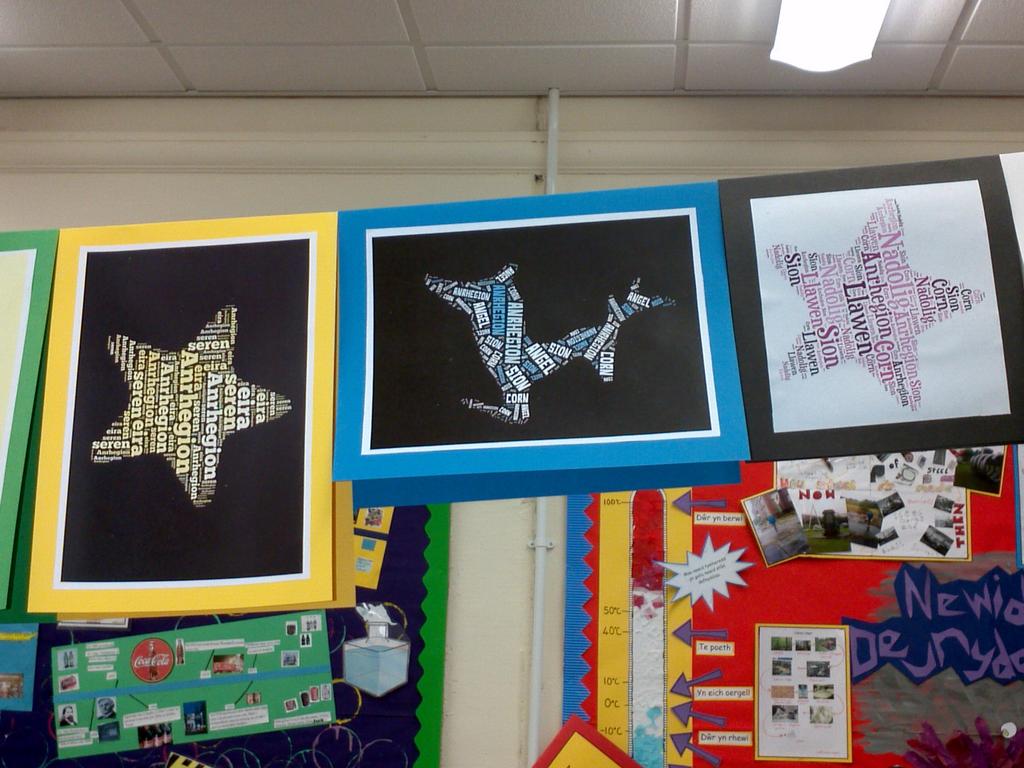 Just been reading the comment from Meinir Morris on using Wordles to make Christmas cards. She says:
"Defnyddiais 'Wordle' fel modd i gasglu a chyflwyno ansoddeiriau i ddisgrifio noson tan gwyllt – roedd y plant wrth eu boddau yn gweld ei gwaith ar y sgrin ac yn hoffi'r ffaith bod ei gwaith yn edrych mor 'broffesiynol'. Roedd cael dewis ffont a lliw hefyd yn ategu at greu delwedd ar thema penodol, hynny yw noson tan gwyllt = cefndir du gyda'r geiriau mewn lliwiau llachar.
Dwi wedi penderfynu y gall plant fy nosbarth defnyddio 'Wordle' i greu cardiau Nadolig 'arty' y tymor yma!
Bach o 'ypdet' ar y cardiau Nadolig, wedi defnyddio 'tagxedo' i greu'r cardiau oherwydd gall y cwmwl geiriau cael ei arddangos o fewn delwedd/llun Nadoligaidd. Plant wrth eu boddau a'r cardiau, trueni na allaf lwytho lluniau i'r cardiau er dwi'n siwr bydd rhieni'r plant yn dwlu arnynt!"
Which translated into English means approximately"
"I used 'Wordle' as a means of collecting and presenting adjectives to describe bonfire night – the kids loved seeing their work on screen and liked the fact that their work looks so 'professional'. I chose the font and colour to complement the specific theme, i.e bonfire night = black background with the words in bright colours.
"I decided that the children in my class would used 'Wordle' to create Christmas cards  – really 'arty' this season!
A little update  on Christmas cards, I have used 'Tagxedo' to create the cards because the word cloud image is displayed within / Christmas photo. Children loved the cards, sorry I cannot upload pictures but I'm sure the children's parents loved them!"
Thanks for that Meinir, you may not be able to upload the pictures but I uploaded them from Twitter!
Diolch!