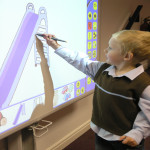 Nic and I are sitting here trying to write an article on interactive whiteboards for a project called Learn 2 Teach. As we are researching it, I thought I might add some links to the sites we have been looking at.
We have found a good beginners' site "Top tips for choosing and using your interactive whiteboard" produced by Polyvison and for Primary Schools we liked the Becta guide book "Getting the most from your interactive whiteboard"
As ever,  Tom Barret has crowd sourced some great ideas you can find on 56InterestingWaystousetheInteractiveWhiteboardintheClass. Many of the contributions are more about handy hints and tips rather than ideas for teaching and learning but well worth looking at – learn just one or two of the techniques and wait for the 'Wow!' when you use in in your class room – even the tech savvy ones are impressed.
The other resource we really rate is '400 Ideas for Interactive Whiteboards'.  This is actually a book and, although we don't usually recommend things you have to pay for, (or, for that matter, paper-based resources) this is a truly excellent book and crammed with enough ideas to last you for years. It's available on Amazon and you can get new or used copies for about £12 – 15.  Go and check it out – on the Amazon site you can inspect it before you buy. Sadly, not available for Kindles yet.