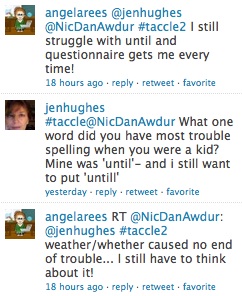 Use your Twitter network and get the children to compose a tweet such as #YsgolEvanJames What was the word you had most problems spelling when you were in school? or  #class4Newtownprimary What word do you still find difficulty in spelling?"  (ask your friends to retweet to their networks as well)
Get the children to make a list of the replies. If you have enough replies you could make a bar graph of the results.
Then instead of the standard spelling list, ask children to choose 5 (or more) of these words to learn instead.
(We did this and quite a famous sports commentator tweeted that he still got goal and gaol confused! Some of the children also tweeted back to the people whose 'hard word' they had learned and got some lovely encouraging replies.)