Age 6-7yrs       Ease *****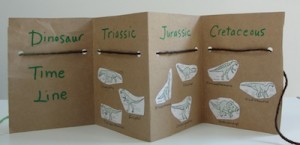 Overview:
Many young learners find the concept of chronology a difficult concept to learn, especially in the context of longer periods of history. We adapted this idea from a similar project on dinosaurs created for older learners. Pupils will create a folding timeline book displaying modes of transport, or 'Ways of travelling' through history.
Description:
Allow learners to search the internet for pictures/photos of modes of transport. A good cross-section would be horse and cart, bicycle, car, bus, train, plane etc. Each child makes a folding book similar to the one featured on dinosaurs. Ask them to label 3 eras, we used "A very long time ago", "Quite a long time ago" and  "Today". Some modes of transport will feature in two or more eras, but encourage learners to search for different styles of transport, for example 3 different styles of bicycles , one for each era.
Learners then print, cut out and glue their pictures in the correct sequence on their timeline.
 What do I need?
Internet access.
Scissors
Glue
String
Marker pens
 Added value:
During the search process, learners must be discerning in the photos and pictures that they choose. It is also a platform for discussion and further research when they have to decide where, for example, a penny-farthing bicycle should be placed.
 Hints and tips:
For less able learners, we provided them with a good selection of pictures and photos to get them started. They searched the internet in order to 'fill gaps' in their timeline. You could also ask them to order bicycles and trains only but have them search for all the required images – anything that cuts the task down into easier chunks.
Safety:
Online searches can produce images that you'd rather learners didn't see so ensure you school has appropriate firewall protection.
Other opportunities to use the same software:
effective Internet searching is harder for children to master than we often think and allowing them to search for specific and relevant thing on a regular basis is essential.
Learning that there are types of searches (images, text, video) is important. As children get older, they can also deal with using different search engines e.g. www.wolframalpha.com See unit Savvy Searching for more details,
Cut and paste images directly from the web to a PowerPoint presentation or a word document. If learners have good IT skills, they'll be able to arrange and label the eras with limited assistance.