PROJECT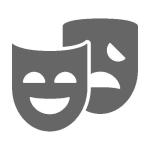 Curricular Areas: Rehearsing and Performing.
Learning Opportunities & Skills:
This unit shows how e-learning platforms can be used to make the whole process of preparing a concert or theatrical performance much easier. Students also begin to learn about the practical and every-day use that can be made of applications previously thought of as places to socialise or complete formal assignments. These activities can help students develop organisational skills, time management skills, autonomy and personal responsibility.

About this Unit:
Digital media and Web 2.0 can help teachers to improve their professional workflow. This unit offers innovative and accessible solutions to the problems that teachers say arise during a theatre project. These activities differ slightly from the others in this handbook because the 'teaching' is implied through the ideas i.e. the tools, platforms and logistical issues are described rather than the 'how' of teaching students to use a specific Web 2.0 tool.

ACTIVITIES
Station 1: Greasing the Skids
Students investigate how various Web 2.0 tools (Survey Monkey, Doodle Poll) can help them organise the preparatory stages of putting on a show or concert.

Station 2: Rockin' Rehearsals
Students investigate how various Web 2.0 tools (digital media, Skype, blogs and vlogs) can help them create effective rehearsal sessions.

Station 3: Spreading the Word
Students use social media to keep in touch, recruit new members and track the progress of their preparations.

Station 4: Podcast Programme
Students use mobile recording devices and video editing software to create videos and podcasts to publicise a forthcoming event.

Station 5: The Performance
Students use a mobile recording device and video editing software to create a fly-on-the-wall documentary of their opening night performance.
This post is also available in: Dutch