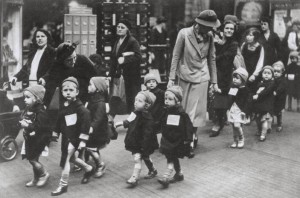 Take an historical context – we used the children who were evacuated from big cities in the UK at the be inning of World War 2 because last year was the International Year of the Evacuees.
Tell them who evacuees were and why etc. Look at children's names that were popular at that time. Kids choose a name. Set up accounts for each child in their chosen name. Let each child decide what character they want to be e.g an evacuee, a mother still living in a big city, children or adults in the host family, a father away at war etc etc. Set the scene – they are going to role play what it's like to be an evacuee (or whatever character they choose) and they have to write about how they are feeling, what their new homes are like, the differences between town and country etc etc. The only difference is that it maybe 1939 but they have twitter!
Other themes we have used:
The children are going to accompany Scott on his expedition to the South Pole. Children decide what they are going to be – geologists, meteorologists, zoologists, botanists, cooks, dog handlers etc. They Twitter what they can see, what they are doing. By the way, the google Culture Institute has a brilliant set of resources on 'World Wonders' and they have a 'street view' of Scott's hut that the children could use to check out their ideas of how things would look.
Take a play that children are studying – with older (secondary school) children we used Shakespeare's Macbeth. It was hilarious. Give them each a character from the play and ask them to take one scene or act and recreate the dialogue on Twitter. VERY good for getting children to really understand the characters, the text and the interaction. How good is this…
#mactwitter x2x2 T&T fire burn+cldrn bbl
#mactwitter@hecate try www.newtfrog .com for a good recipe
Even funnier if they do not follow the play exactly but 'ad lib' what their characters are thinking.
This post is also available in: Dutch, Italian, Spanish, Romanian, Welsh