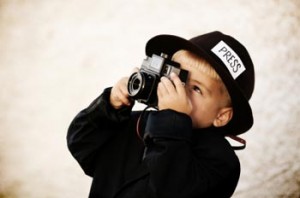 Another idea from Belgium…Carine says it gives children a chance to reflect on the things that happened during a day and provides an opportunity for individuals to share their personal perspective on the different activities they have engaged in. It also helps children learn about how their day is structured. She adds "And it's always great to see what kids choose to put in their photos!"
The children play photographer!
"Once  a week we choose a child to be the photographer for a day.  They get a special cap and a card with "REPORTER" on it on a piece of ribbon around their neck. This child can take whatever pictures they want for a day (or half a day if you have a lot of children). During whole class activities in a circle, I restrict them to the first few minutes otherwise it can get irritating for the teacher and distracting for the other children. However, they can take pictures when the class is doing group work, during lunch time and breaks and when they are playing outside.
Preferably before the end of the day, upload the photos onto a computer and show them to your class on the interactive white board. They always find it really hilarious (personally, I do not understand what is funny about a blurry face, but well …)! Let the reporter talk about the pictures. You might need to help.  Let all the children reflect in a positive way.
(NB In the beginning probably more than half of them will fail – there will be too many pictures, the photographer will have wobbled the camera or forgotten  to remove the lens cap! But a good lesson for the next time of course! Talk about how the picture could be improved)
Nic has tried this and written it up as a lesson with some extra activities
This post is also available in: Italian, Spanish, Romanian, Welsh